Future Classical Fostering Young Talent at Verbier
20 January 2023
Every summer, the Swiss mountain resort of Verbier transforms from ski playground into a premier destination for the international classical music scene. Thanks to Canadian donors, KBF CANADA helped bring some of the world's best young talent to the 2022 Verbier Festival and support programmes to engage new audiences.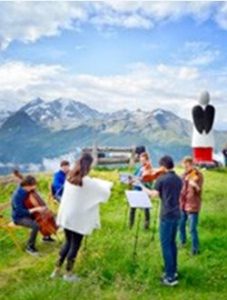 "Verbier is unique in that it's both a festival and an education project," says Stephen McHolm, Director of the Verbier Festival's Academy and UNLTD programmes, who is originally from Canada. "The Who's Who of classical music is here for 17 days every summer."
Masters and young talent meet
Launched in 1994, the Verbier Festival welcomes 400 musicians and over 40,000 visitors from around the world to hear music-making at the highest level. Organisers search the globe for the most promising young talent to take part in its Academy and Orchestra Programmes. "To be accepted into the Academy is like winning one of the major competitions of the world," said McHolm. "It can really be a rite of passage for a lot of young musicians."
Donor generosity allows the festival to offer this once-in-a-lifetime opportunity free of tuition fees, levelling the playing field for musicians of all nationalities and economic circumstances. Canadian funds supported a scholarship for 16-year-old Israeli cellist Nahar Eliaz to be mentored by renowned musicians. They also supported the participation of four Fellows in the Academy's Orchestra Conducting Mentorship programme, to learn alongside some of the world's top conductors.
Engaging new audiences
The Verbier Festival is also dedicated to offering affordable learning opportunities that demystify classical music and engage new audiences through its UNLTD division. "We can't have a future for classical music without an enthusiastic audience," explains McHolm.
UNLTD's Classical Code Crackers programme features performances and visual learning opportunities for audiences of all ages. The popular 'Vous trouvez ça classique?' (You think that's classical?) series moderated by conductor Mathieu Herzog mixes live performance with entertaining and informative talk. Canadian musicologist Hannah Chan- Hartley also presented her innovative Visual Listening Guide, deepening audiences' understanding of famous symphonies in a visually engaging way.
Heading toward the Festival's 30th edition in 2023, McHolm wants to encourage young artists to take the initiative in bringing people back to classical music. "They can't just sit back and wait for audiences to come into the concert hall," he says. "We're taking important steps to prepare our Academy and orchestra musicians to play a part in the future of classical music by becoming relevant to 21st century audiences."